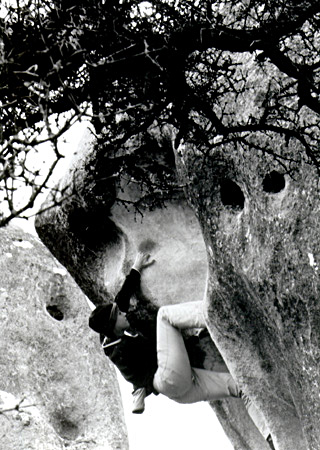 This is some of the best moderate bouldering on Earth, with lots of varied styles of problems and great landings. Quantum is known more for its bulbous rounded no hold problems but most of the classic lines are more normal in style, like the classic V2 in the photo to the left. The harder problems are listed on this site is for easy reference. We don't list the others as there are too many.
Most people find it easier to forget the guide at first and just wander around and climb what looks good. Remember that most climbs look easier than they are because of the rock's bad friction. For best conditions keep your shoes clean and whack dust off the holds, some times rubbing (a small amount of) chalk into hand holds then whacking works. Unless the rock is damp, chalk on foot holds is bad.


Great Jug Pulling V2 ***
(80 Map 6) FA: Some old very cool dude
On the back of the Bio Hazzard boulder lies the steepest V2 in the field. Interesting moves lead to a sequency topout. Either jump off or down climb!